The registration form
for NSK News Bulletin E-Mailer
NSK News Bulletin Online
September 2003

-------------------------------------------------------------------

Newspaper, News Agency Employment Down for 11th Straight Year


An NSK survey says the number of people employed full-time by NSK member companies as of April 2003 was down 2.3 percent from the same month of 2002, falling to 55,806 in an 11th straight annual decline. Recruiting also fell, with the ratio of new hires to total employment hitting a 10-year low of 2.2 percent.

The survey was conducted on April 1 on 105 NSK newspapers and news agencies (the pervious survey covered 104 companies). Board members, part-time workers and temporary employees were not included in the statistics.

--Total employment
Employment peaked at 67,356 in 1992. But ever since diving 1.6 percent in 1993, employment has fallen by 1 to 2 percent per year. Over the past 10 years, employment has dropped 13.7 percent with the elimination of 8,828 jobs.

--Gender and age of employees
The data from the 81 companies that provided detailed replies showed male employees outnumbering females by 89.2 percent to 10.8 percent. The ratio improved 0.4 of a percentage point in the favor of the women from 2002. Of the 53,488 people working at the 81 companies, 47,703 were men and 5,785 women. An age breakdown showed that those aged 55 to 59 represented the largest group at 15.6 percent, followed in size by the 50-54 group, the 35-39 group, the 30-34 group and the 40-44 group, in that order.

--Recruitment and separation
A total of 1,177 new workers were hired between April 2, 2002 and April 1, 2003. The 885 men represented 75.2 percent of the new hires, and the 292 women 24.8 percent.
A total of 2,082 men and 282 women quit the companies. The rate of those leaving their jobs to total employment was 4.4 percent.
The largest group of those leaving, at 60.6 percent, quit at the mandatory retirement age. Another 23.8 percent left for personal reasons. A total of 215 people, up 71 from the year before, were re-hired after reaching retirement age.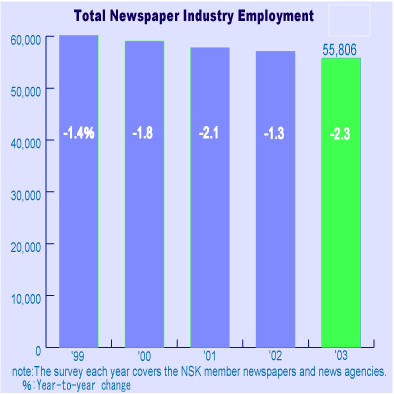 ---

Advertising Down in First Half of 2003 for 4th Straight Period


Dentsu Inc. has released a January-June 2003 survey on advertising in newspapers, TV programs, TV spots, radio and magazines.

In the first half of 2002, advertising fell in all categories for a second straight half. But in the first half this year, TV spots and radio advertising were up for a second straight term.

Dentsu says advertising in newspapers in the first half of this year was down 3.1 percent from the same period of the previous year for a fourth straight period. Deflation has cut into corporate advertising. The US invasion of Iraq and the SARS epidemic also hurt ad sales.

By industry, ad placements from the 'information/communication' and 'education/medical services/religion' sectors increased from the first half of last year in four of the five media categories. Advertising by the 'information/communication' sector began to surge in the fall of 2002 and rose by double-digit percentages year-on-year in newspapers, spot TV advertising and radio. The 'food and beverages,' 'household articles' and 'sporting goods and articles for hobbies' sectors all placed more advertising in all media categories.

The survey covered 121 newspapers, 15 major TV stations in Tokyo, Osaka and Nagoya, nine radio stations in Tokyo and Osaka and 374 magazines. Advertisers were broken down into 21 sectors.


The newspaper-related details are as follows:

Advertising in newspapers fell for four straight six-month periods starting in the latter half of 2001. The year-on-year decline averaged 1.9 percent for national newspapers, 0.5 percent for regional newspapers, 3.4 percent for local newspapers and 8.6 percent for sports dailies. Sports dailies suffered a major drop after the large gain during soccer's World Cup in 2002. But the margin of decline was less for other newspapers.

For all newspapers, total advertising page-counts fell year-on-year, resulting in a 1.4 percent fall against entire newspaper page-counts. The ratio of ads to total pages fell 0.6 of a percentage point to 37.6 percent, the survey says.

Color ads increased 7.0 percent for a second straight term in all categories except sports dailies, which suffered a 24.7 percent plunge. Full-page ads fell 0.3 percent in their first decline in two half-yearly terms, due largely to a 13.5 percent drop for sports dailies. Double-page spread ads jumped 24.3 percent for national newspapers, driving the 4.3 percent gain for all categories. Classified ads fell 3.3 percent for a sixth straight drop.

By advertisement type, 'camera/audiovisual equipment' had 29.6 percent more ads, mainly for DVD players and video cameras. 'Information/communication' had 21.3 percent more ads, centering on personal computers and Internet-related services. These two areas led a total of six that saw more ads. But ad orders fell in 15 other areas, including some known for high placement, including Ň«inancial services/insurance°¶(down 15.7 percent), 'automobile and related goods' (down 11.9 percent) and 'classified ads and others' (down 5.6 percent).

Percentage Change in Four Media's Ad Volume


2001


2002


2003


1st Half
2nd Half
1st Half
2nd Half
1st Half
Newspaper
1.1
-2.4
-4.4
-2.6
-3.1
TV program
-1.5
-2.4
-1.8
-2.7
-3.0
TV spots
-0.4
-1.6
-2.9
1.2
3.1
Radio
1.4
-4.6
-5.1
0.3
2.2
Magazine
-2.6
-8.7
-8.0
-4.1
-3.6
---


Jiji, Reuters to Tighten Tie-up In Financial Information Services


Jiji Press Co. has agreed with Reuters to strengthen their tie-up in financial and securities-information services. They aim to integrate their financial and securities information at home and abroad, as well as sales networks in Japan, to raise competitiveness in the Japanese market.

Jiji and Reuters have cooperated in sales of financial information since 1997. The tie-up will expand to editorial activities, marketing and system development.

On Sept. 1, Jiji and Reuters began jointly providing financial and securities information on the Web, in a service called MAIN EX-I, to branch offices of securities companies. They plan a November launch of joint dispatches of corporate financial data and will jointly develop new financial information services.

---

Kyodo News, Itar-Tass Expand Ties Centering on Internet


Kyodo News has signed a deal with Russia's Itar-Tass news agency to update their cooperation to take Internet technology into account.

Kyodo and Tass in 1958 began cooperating by exchanging articles and photographs and have reviewed their ties on a regular basis.

The latest review focused on exchanges of articles and photographs that had been conducted over exclusive private lines, shifting the method of transmission to the Internet.

The renewed agreement maintains Kyodo's right to distribute Tass photographs and covers cooperation in newsgathering and exchanges of personnel.

Kyodo News places New York Daily News photos at NEWSPARK



The Newspaper Foundation for Education & Culture, which operates NEWSPARK (the Japan Newspaper Museum), has concluded a storage contract for the New York Daily News Photo Collection owned by Kyodo News.


The collection includes 29,502 photographs, including war photos from around the world before and after World War II. Kyodo News bought the collection in 1998.


Most of the photographs are original prints. The collection also includes photographs originally shot and distributed by Japanese news agencies such as Domei Tsushin and Nippon Denpo Tsushin, but which no longer existed in Japan. It further includes works by such famous photographers including Robert Capa and Eugene Smith.


Under the contract, the foundation will store the collection and occasionally display it at NEWSPARK in Yokohama. The foundation will also make the collection available to third parties for research and investigation. Any commercial use of the photos will require Kyodo's approval.


Kyodo News made a digital record of all of the photographs before concluding the storage-and-display deal.




Yomiuri Launches Electronically Distributed Newspaper Abroad



The Yomiuri Shimbun in September started new services to print and sell its Japanese daily's main pages in key cities around the world. The electronic delivery is a cooperative venture with NewspaperDirect (ND) of Canada and its Japanese agent in Tokyo, Konica Business Machine. Circulation will be aimed at a total of 2,000 hotels, bookstores and other sites in 55 countries.


The electronic delivery system will let the Yomiuri transmit PDF files of its newspaper pages to ND's servers almost every day (except press holidays). The data will be transmitted to ND's 'print stations' in major hotels, public transport facilities and bookstores around the world. The latest Yomiuri pages will be printed and sold on order to customers.


The electronic edition is A3-sized, with 28-pages printed in black-and-white. It contains the main pages of the Yomiuri Shimbun daily edition, in addition to special pages from its satellite-transmitted edition for overseas subscribers. The price will vary, depending on country and area. In the United States, the paper sells for two dollars.


A Yomiuri official in charge of the project said the new services are similar to spot sales of newspapers at kiosks in railway stations or convenience stores. "We are receiving inquiries from business people planning to make overseas trips asking us where they can get the Yomiuri Shimbun," the official said.


The Mainichi Shimbun, Sports Nippon and the Okinawa Times are providing similar services in separate tie-ups with ND.

---
"NIE Nurtures the Power to Live for the Future --Together with Schools, Families and Communities," was the theme of the event, which drew 603 participants. The attendees included 422 school representatives and 121 newspaper delegates in the highest turnout ever for such a meeting.


The first day began with a memorial lecture and plenary session. The second day saw the participants break up into six groups to hear reports from elementary, junior high and senior high school teachers. Representatives of parent-teacher associations attended for their first time.


The convention began with an address by Asahi Shimbun President Shinichi Hakojima, who is the president of the foundation.


He said a prevailing tendency of children not to read and not to speak of newspapers will erode Japanese culture and tradition. He also said it threatens Japan's social foundations and democracy. Hakojima said NIE helps students become familiar with the printed word and opens their eyes to what is happening in society. He called it encouraging that an increasing number of schools are using newspapers as teaching materials. But he said people in the newspaper industry must make a newspaper that is appropriate as an educational material -something that will eventually lead to an evolution of the newspaper itself.


The first part of the plenary meeting began after the speech, starting with a report on an NIE campaign in Shimane Prefecture and a panel discussion. An elementary school teacher reported on NIE activities at a kindergarten, an elementary school and a junior high school in the mountainous Kami-Yamasa district of Shimane Prefecture. The teacher said the NIE drive should use newspapers as an educational tool for children and adults through an alliance of schools, families and communities.


In the discussion, one panelist said newspapers can nurture sensitivity in early childhood -a new proposition about NIE that has yet to be thoroughly discussed. On NIE in elementary, junior high and senior high schools, one panelist suggested exchanging information and experiences in study meetings to help expand NIE activities.


Other participants had additional proposals:
-- Aim to extend continuous education as kind of vertical axis and to penetrate into families and communities as a horizontal axis to expand the NIE campaign.
-- Aim for a wider population ranging from children to the elderly, and link with families and communities to multiply the effect of the NIE campaign.



The second part of the plenary meeting studied the theme, "In Pursuit Of 21st-Century-Type NIE Activities." Two schoolteachers reported on their NIE experiences. In response to criticism that newspapers are hard to read, panelists from newspapers reported that they are trying to make newspapers easier to understand by actions such as including more glossary columns in which key words are explained.


The chairperson of the panel discussion concluded the meeting by saying that newspapers can help readers discover the meaning of life, and that children will find out even better how to live as newspapers keep increasing the number of articles devoted to that goal.

Nihon Shinbun Kyokai


The Japan Newspaper Publishers & Editors Association

Nippon Press Center Bldg., 2-2-1 Uchisaiwai-cho, Chiyoda-ku,

Tokyo100-8543, Japan

bulletin@pressnet.or.jp

Copyright 2003 Nihon Shinbun Kyokai
All right reserved