The registration form
for NSK News Bulletin E-Mailer
NSK News Bulletin Online
January 2008

-------------------------------------------------------------------
NSK Chairman Masato Kitamura Issues New Year's Message for 2008


I address this message to everyone involved in news reporting as we enter the new year of 2008.


We are just beginning this new year, but we are already facing a situation mired in utter political and social chaos. Domestically, the °»anomaly°… situation in the Diet of the opposition bloc holding an Upper House majority after the ruling coalition°«s stunning defeat last summer has delayed deliberations on important legislation, producing a virtual political stalemate. On social issues, there is growing concern about a widening wealth gap and inflation due to soaring crude-oil prices. In addition, financial uncertainty is rising over the U.S. subprime mortgage crisis. Internationally, terrorism and armed conflict are spreading in many areas, at the cost of masses of human lives at this very moment.

Against this backdrop, we will soon see the U.S. presidential election, the G-8 summit in Lake Toya, Hokkaido, and the Summer Olympic Games in Beijing. Also, the Lower House may be dissolved for a general election this year. So, in many ways, 2008 could bring turning points in a number of areas. At the G-8 summit, global warming will be high on the agenda and Japan°«s leadership abilities will be under global scrutiny.


For Japan°«s newspaper industry, I anticipate a continuing harsh environment this year. But no matter how difficult the situation might be, newspapers will continue to fulfill their mission of presenting factual information from a fair viewpoint as well as providing commentary and opinion for public judgment. We must continue to clearly publicize the role and significance of newspapers and seek wide-ranging appreciation of the public for our role.


In this context, I must refer to a survey on media and °»social capital°… covering this issues of trust and links within and between social networks. That survey, by the Interfaculty Initiative in Information Studies at the University of Tokyo°«s Graduate School, was discussed at last fall's National Newspaper Convention in Nagano City. It found a higher than average tendency among newspaper subscribers to form social networks and to participate in volunteer activities, reflecting heightened respect for interpersonal relations of trust. Such individuals also respected the efforts of newspaper companies to build social capital within their communities. The survey found that a society rich in such social capital also promotes a functional democracy. I was encouraged by the survey's finding that newspapers greatly contribute to heightening social capital and that newspapers are conducive to the establishment and maintenance of a stable democracy.


Regarding the challenges we face in invigorating newspaper advertising, I believe it imperative for newspapers to appeal more strongly to advertisers about our ideal functionality for advertising. As advertisers become increasingly selective in their media targeting, we need to play up the effectiveness of newspapers in reaching socially influential and active consumers. An NSK Advertising Committee survey recently found that newspapers boost public interest in and recognition of business names, products and services, thereby spurring consumer spending. The survey also confirmed a complementary rather than competitive relationship between newspapers and the Internet. All newspapers are actively soliciting advertising through their affinity to the Internet, while also stepping up collaboration in digital media and building °»cross-media°… relations.


At the same time, NSK's Newspaper in Education (NIE) campaign continues to make steady progress. The number of schools with NIE programs now exceeds 500 nationwide and new initiatives aim to spread NIE even further. Recent surveys by the Organization for Economic Cooperation and Development (OECD) and Japan's education ministry show a drop in the academic ability of Japanese children, especially in reading comprehension and practical application. In this context, the importance of newspapers must be reaffirmed. I believe that the NIE campaign will play a key role in educating our children in fields such as reading comprehension.


The Characters Culture Promotion Organization set up by the newspaper and publishing industries aims to promote books and newspapers by encouraging exposure to characters and reading culture. The organization is also to research measures and legislation worldwide for the promotion of character-based knowledge and reading culture in other countries in order to learn more about how to best sustain newspaper support systems including Japan's resale price maintenance.


Last October, NSK announced a plan for environmental protection. Cutting carbon dioxide emissions is becoming increasingly urgent to prevent global warming. NSK member newspapers and news agencies aim to carry more articles on environmental issues and more related advertisements, as well as organizing supportive events to boost public awareness on environmental protection. All NSK members have also pledged to cut their carbon dioxide emissions and to take other steps to lessen their own burden on the global environment.


In closing, I pray for a fruitful new year and I wish you all the best of health and business success.


Newspaper Circulation Slips 0.5% to 52.03 Million in 2007



The annual NSK circulation survey for 2007 found daily aggregate newspaper circulation to stand at 52,028,671 (copies) as of October. That figure is down 0.5 percent from October 2006.


The circulation of general-interest daily newspapers fell 0.2 percent in a third straight annual decline. The combined circulation of sports dailies also fell, dropping 3.6 percent in the seventh straight drop.


The survey compiled data from 121 NSK member newspapers. The 121 newspapers included 45 that print morning and evening sets of newspapers, 61 that print only morning papers, and 14 that only print evening papers.


The circulation of morning and evening "set" newspapers fell 2.3 percent year-on-year, in a 17th straight annual decrease. The circulation of morning-only papers rose 0.4 percent in a second consecutive gain, but that of evening-only papers dropped 1.9 percent.


By region, circulation increased 0.4 percent year-on-year in Okinawa, and 0.3 percent in Hokkaido. The Hokuriku region reported a marginal surge. But all other regions posted year-on-year declines.


Average newspaper distribution per household stood at 1.01 copies, while the average population per newspaper-copy issued was 2.44.


Circulation and Households
Circulation and Diffusion Rate
Ratio of Home Delivery

Upper House Enacts Revised Broadcast Law


An Upper House plenary session on Dec. 21 enacted a revised Broadcast Law to allow holding companies to control multiple broadcasting firms. The law also incorporates new measures to strengthen governance at the Japan Broadcasting Corp. (NHK).


The revised law allows holding companies to own multiple terrestrial (ground-based) and satellite-based broadcasting stations as fully-owned subsidiaries. It also sets the upper limit for a holding company°«s ratio of capital contribution to its subsidiary per shareholder at °»more than one-tenth and less than one-third.°…


The changes include a strengthening of oversight for the NHK management committee by raising some of its members to full-time duties. It also allows NHK to issue programs via Broadband Internet after they have been conventionally broadcast.


In approving the revised law, the Upper House also adopted a supplementary resolution calling for a comprehensive study into the standing principle against any excess concentration of capital in the media.



Local Press Photographers Associations Announce Annual Awards



A number of regional press photographers associations have announced their respective annual awards for photos taken in the year 2007.


The Chubu Press Photographers Association, the Tohoku Press Photographers Association and the Kansai sports press photo managers society issued the following awards:


***The Chubu Press Photographers Association (33 member companies, 191 individual members)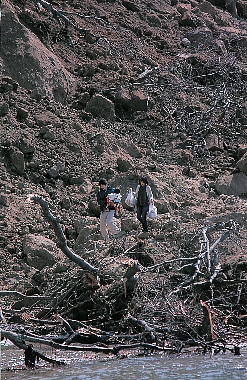 PHOTO COURTESY OF ASAHI SHIMBUN

The association awarded its top prize to a photo by Toru Nakada of the Asahi Shimbun°«s Nagoya branch. His photo shows a family walking on a mudslide to their father's house in a remote village that was isolated after a major earthquake on the Noto Peninsula, Ishikawa Prefecture, on March 25.


One day after the quake, Nakata traveled by fishing boat to the Fukami area of Monzen town, Ishikawa Prefecture. From the boat, he saw the family carrying food as they walked atop the mud. He took his photo from a distance of about 100 meters. The family was going to the home of their elderly father to be sure that he was safe.


Nakata said he took the photo when he inadvertently released the shutter of his camera as he glimpsed the family walking on the dangerous slide of mud and sand.

***The Kansai Sports Press Photo Managers Society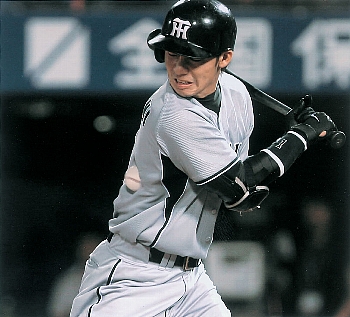 PHOTO COURTESY OF DAILY SPORTS

The top prize went to Ippei Iimuro of the Daily Sports°« Osaka head office for a shot he took at a professional baseball game between the Hanshin Tigers and the Yokohama BayStars at Yokohama Stadium on Sept. 25. He captured Hanshin slugger Takashi Toritani being hit in the back by a pitch.
Iimuro said that he was lucky to capture the moment, saying the award will encourage him to keep shooting sports photos without losing his concentration.

***The Tohoku Press Photographers Association (65 member companies, 301 individual members)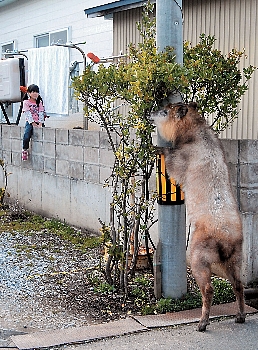 PHOTO COURTESY OF DAILY TOHOKU

The association gave its top prize to Yusuke Ibuka of the Daily Tohoku for a photo of a girl apparently playing with an antelope in downtown Mutsu City, Aomori Prefecture.


Ibuka saw an antelope near a shopping area next to Ominato railway station in Mutsu City in early April. He had been driving to an assigned event but got out of his car and chased the antelope, which crept into a narrow alley and stopped near a local girl who had been playing there alone.


He said the antelope was caught off guard, which gave him the chance to get in close for the photo. The scene looked to him as if the girl was playing hide-and-seek with the antelope, and he captured what he called a rare moment.

Mainichi Shimbun, SEGA Debut News Quiz Game



The Mainichi Shimbun on Nov. 29 released a news quiz game for the Nintendo DS handheld game console. The newspaper developed the game in cooperation with SEGA Corp., to commemorate the paper's 135th anniversary.



The game, titled °»The Mainichi Shimbun°«s Top 1000 News,°… features questions about 1,000 news items in various categories.



Users can trace news reports back to the paper's first issue in 1872 by browsing into the pages of the newspaper°«s predecessor, the Tokyo Nichi-Nichi Shimbun. Some questions ask users if they can find any errors in the articles. The game also contains questions that help users prepare for the Mainichi°«s News Proficiency Test.



Koichi Masuda, who heads the paper's Start-up Business Development Office, said he expects young people to become interested in newspapers by playing the game. The game software retails for \3,990.


---


Story of the Month>>>
Chugoku Shimbun opens Information Center for Nuclear Arms Elimination



The Chugoku Shimbun -- which is based in Hiroshima City, the first target of an atomic bomb -- on Jan. 1 set up the Hiroshima Peace Media Center within its editorial department.



The center is to distribute peace-related news and information aimed at eliminating nuclear weapons and promoting peace worldwide via its bilingual Japanese and English Web site. The center is also issuing a special supplement on peace issues twice a month as an insert to the newspaper°«s regular morning edition.



The center°«s exclusive sub-Web-site opened on Jan. 3 as a page within the newspaper°«s main Web site. It carries past articles on peace issues, the global state of nuclear weapons, the latest news and expert comment, and so on. Using animation and computer graphics, the site features mock scenes of Hiroshima at the time of the A-bombing and messages from prominent Japanese and foreign visitors to the city.



The Hiroshima Peace Media Center is to develop an information network with Japanese and foreign research institutes to study nuclear disarmament and peace. It is also preparing to host a Hiroshima Culture Conference centered on a membership of about 100 Japanese and foreign experts and specialists, as well as organizing symposia and lectures on peace-related public policy.



The center has a fulltime staff of five and seven concurrent staff. Akira Tashiro, the senior editor in charge of the center, said it is intended to promote such strong public opposition to nuclear weapons that the tragedy of Hiroshima could never be repeated. Noting that the survivors of the A-bombing continue to decline in number, he said that the Hiroshima-based Chugoku Shimbun is continuing to work to ensure that future generations fully comprehend the legacy of Hiroshima.


Nihon Shinbun Kyokai


The Japan Newspaper Publishers & Editors Association

Nippon Press Center Bldg., 2-2-1 Uchisaiwai-cho, Chiyoda-ku,

Tokyo100-8543, Japan

bulletin@pressnet.or.jp

Copyright 2008 Nihon Shinbun Kyokai
All right reserved